I wrote these thoughts as a white, upper-middle-class, able-bodied, heterosexual, secular humanist woman, with the primary goal of connecting more deeply with other white people and being open to all other intersections. I was deeply impacted by and must honor this writer of color–Isobel Debrujah's "So You Want to Wear a Safety Pin." There was also much reaction to a white writer, Christopher Creelty's, "Dear White People Your Safety Pin is Embarrassing." After I wrote my initial reflection, I was also deeply impacted by ryboylorn's "On Safety Pins, Pant Suits, and (Faux) Markers of Safety," the personal testimony of so many people of color who were yet again targeted by the white fragility that could not tolerate the message that their pin is not enough, and by the need for Mia McKenzie's "How to Tell the Difference Between Real Solidarity and 'Ally Theater'" to be re-shared so many times. So I've reflected and added to my original piece. I humbly offer it here.
INTENT and IMPACT:
Pay attention to and appreciate all the thoughtful dialogue that prompts deep self-reflection and understanding of one's purpose/self-reflection, taking ownership of the impact of one's actions, regardless of intent. Own your impact if you wear the pin or if you do not wear it. But do not dismiss anyone who shares a negative impact with you from their perspective as a targeted group. Listen. Believe. Take further action and focus on repair.
INTER-CONNECTEDNESS:
Appreciate (and question) the history of the pin: from Australia's #illridewithyou to support Australian Muslims to the history of the pin to combat the anti-immigration sentiment post-Brexit.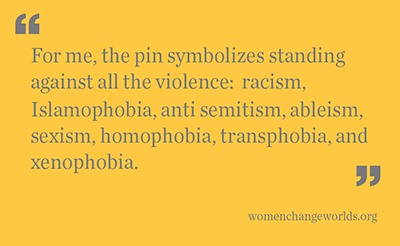 CALLING IN WITH LOVING ACCOUNTABILITY:
For some white people, this might be one of the first public actions they have taken and it is all they can see to do. As a white person, I have the energy and responsibility to support them in this step. I do not expect people of color or other targeted groups to take this action. And I personally have to be vigilant internally when I monitor and judge the behavior of other white people negatively to make sure I'm not just trying to make myself feel like I am the good white anti-racist, falling prey to competitiveness that props me up and allows racism and other -isms to continue on happily. This is the question I would pose Christopher Creelty, given the chance. How can we hold other white people in loving accountability, moving them to action? How can I do that with humility in the service of inspiring other white people to take deep, abiding action?
LOVING ACCOUNTABILITY ONE STEP FURTHER:
I see another white person wearing a pin who feels like they deserve credit for doing so. How can I use that symbol to start a conversation and move to actions we can take to back up the symbol, to give it some weight? In my own humility, I can possibly learn a new action. Perhaps, I can help someone realize an action they could not envision. Perhaps, we can work in solidarity. We can even continue the conversation to ask how can we move to a more overt symbols–a Black Lives Matter Pin, #NODAPL, #ISUPPORTDREAMERS, #STANDINGFORLGBTQ rights, #NoHumanIsIllegal…. And I commit to lovingly calling to action those whose only action is wearing a pin. I can emphasize that we are in it together.
ACCOUNTABILITY:
As a teacher I have been asked many times to identify as an ally publicly by my students and colleagues and so I have chosen to honor those requests and hold the anger/frustration/disappointment from others who do not believe I have the right to call myself an ally. It is one of those tough accountability decisions that I reflect on regularly and discuss with anyone calling me in or out. I am always a work-in-progress. I welcome all feedback, listen, believe, and act on the accountability that aligns with my commitment, humility, and humanity.
WHITE SUPREMACIST CO-OPTION:
What happens when white supremacists are faking it? I totally support all targeted groups to stay steadfast in their refusal to trust anyone wearing the pin. But as a predominantly privileged person, I go back to my responsibility to start dialogue with others I see wearing the pin. What does it mean to you? What's your story? And if I doubt their answers and sincerity, I call them in and have another accountability discussion about White Supremacy. I commit fully to that. I had to do it in high school in Pennsylvania. I can do it as a grown woman now.
INTERSECTIONAL SYMBOLISM:
For me, the pin symbolizes standing against all the violence: racism, Islamophobia, anti semitism, ableism, sexism, homophobia, transphobia, and xenophobia. As a victim of sexual assault, I want to see the pin. I will ask for support and action from those wearing it. And I will have the conversation if it is just an empty gesture. But, wow, will I enjoy the conversations that let me know I am not alone. Don't underestimate that.
BOTH/AND:
I believe we must wear a symbol and question the symbol. I believe we must wear a symbol and take action. I believe we must have this conversation and interrupt racism, Islamophobia, anti semitism, ableism, sexism, homophobia, transphobia, and xenophobia at the same time. I believe we can be both/and. But we must take action. Our humanity depends on it.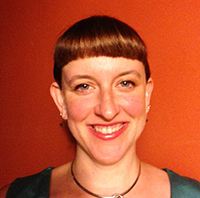 I love the people in my life who push me to be better. I owe much gratitude for this piece to Mirah Anti, Jorge Zeballos, Pat Savage-Williams, Andrea Johnson, Donald Burroughs, Matthew Biecker, Ashley Tuzicka Ray, and Jamie Utt.
Thank you to SEED and Wellesley, most especially Emmy Howe, Gail Cruise-Roberson, and Jondou Chase-Chen for pushing me to put my voice in the world.